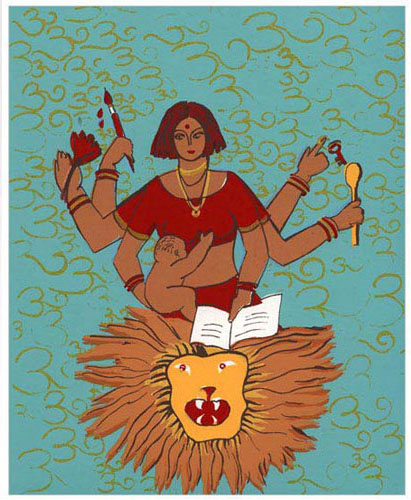 Manjiree holds a Master of Fine Arts degree from the prestigious Maine College of Art, Portland, United States, where she gained entry on the coveted Dean's scholarship. Her stint at art school was in response to a keen calling she harboured since childhood to express the infinite kaleidoscopic nature of being using a more expansive medium beyond language, fascinated as she constantly is by the people, places and events informing her life.
For Manjiree, her life journey that took her from the vibrant and warm rural hinterland to the big city with its impersonal bearings, and thereafter half way across the globe to a land and culture very different from her own, enabled her to see beyond the ephemeral veil of difference, a humanity unified by the sameness of spirit. Manjiree is a trained Ayurvedic Doctor and a full time civil servant.
Through her work, Manjiree tries to capture the myriad existential hues which are formed by the interplay of a network of complex interrelationships between various subjects – the believer and the maker, the seeker and the giver, the supplicant and the insistent, the oppressor and the oppressed. Their individual responses, even as they seem related to each other in the manifest, in reality, transcend the realm of the protagonists, to become part of the totality of existence, the oneness of being, where truth is reduced to just a perspective. For Manjiree, the depth of expression brought out by colour goes above and beyond the organic limitations imposed by language, culture and ethos. In her paintings, through provocative use of shade, texture, shadow, figurative imagery and symbolism, she forces her subjects to reimagine their notions of reality.
In 'A New Beginning', Manjiree adopts a very spontaneous style, with vibrant and distortive colours and strokes, evoking passion and drama in the mind of the observer, forcing him to look at the everyday and mundane in new light and colour. The work is largely expressionist and uses resist technique layering colours and textures for impact. 'A New Beginning' comprises 35 pieces in mixed media spanning water media and oil based colors, pastels and oil sticks on paper. The cockfight sequence, central to the body of work, explores the power interplay between the subjects; the birds and the bird keeper – their fears, anxieties, desires and boundaries – and the fluid interchange of roles that alternate between the protagonist at one instant, and antagonist in the next – presenting a reflective canvas for the observer to re-imagine his own complex life setting, and the multiple aspects that inform his imagined reality.